As I feel conviction, creativity and confidence pulse thru, I am reminded that if you do what you love, you will love what you do. I love the life energy that flows when a few time "compartments" dropped off the map. There isn't a time to get ready for work, commute time, endless meetings time and personal time off. I have a whole, integrated life. I love my home office. I don't begrudgingly step into a laminated cubicle with corporate cafeteria coffee, I glide on my purple goody goody shoes (#1181) and start the day with my favorite ritual -- Henry's coffee, shot of Toriani Hazelnut, steamed milk, splash of cinnamon and swirl of chocolate.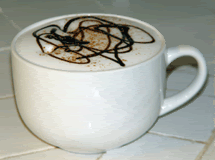 My time slides purposefully. I can work on a client proposal at 8pm, take a shower at 11am, pickup groceries at 2:30pm and meet a client at 4. I can wear shoes that don't match my shirt in the office. Okay, so it feels great right now. Someday, I'll feel stressed out with a deadline or too much business (or too little) but what I love about it, it's MY life. Not my job. I'm doing what I love.
Today, that means I have to figure out how to structure a retainer agreement with a new client (yippee), price a proposal and determine how much of my time I should devote to a cool opp to work as an associate with a great SF marketing consulting firm. Yeah it's scary qualifying clients and opportunities for myself and not for some MegaEmployer. It's personal. But I don't dread any bit of it -- business development, proposals, execution -- it's all in one happy daily flow.
It also means this is my goddamn P&L -- for better or worse. It goes in my business checking, it goes out. I'm kinda proud of my discipline in keeping upfront expenses in line. Printing brochures on my printer "on demand" instead of upfront production. Forgoing Quickbooks (for now) while using Excel in a manner my husband marvels he has never seen. I'm thrilled my accounts receivables for work in July are already all paid except for one invoice (may THAT luck continue!).
Word of the Day: So (take note Scott) today's word courtesy Scott Johnson @ feedster.com is: neo-maxie-zoon-dweebie meaning the highest notch on the comparison scale. As in, I'm having a neo-maxie-zoon-dweebie day!